Own And Loan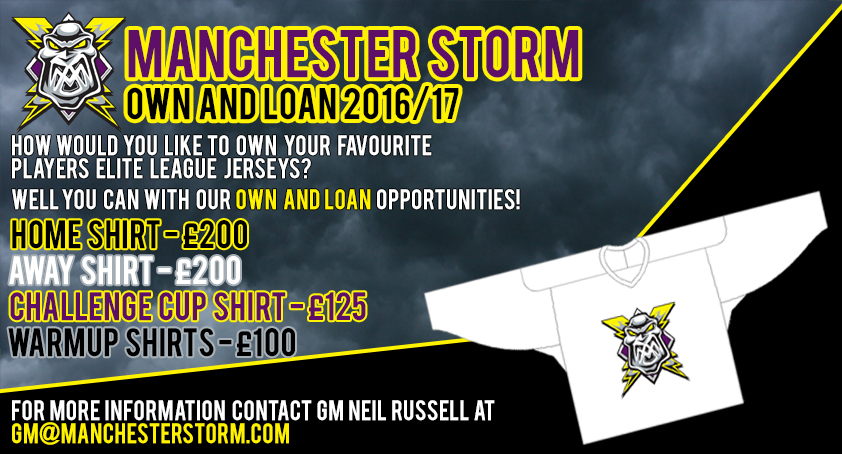 Your Go Goodwins Manchester Storm are pleased to announce the details of the extremely popular "Own and Loan" scheme for the 2016/17 EIHL season!
Fans will have the opportunity to sponsor the Home, Away, Challenge Cup, and the fan designed Warm Up jerseys for the entirety of the 2016/17 Elite League season.
Once you buy your favourite player's 2016/17 jersey and 'loan' it back to the club, the shirt will be worn for the entirety of the regular season, until the handover ceremony at the end of the season, where it will be presented to you by the player.
You can have your name, twitter handle, or buy it for friends or family as a birthday gift and surprise them with it as they see their name on the back of the player you choose.
If your chosen player is selected for "Shirt off the Back", we will use your jersey for the first 2 periods of that game, before being swapped out for a new jersey, without your name upon it, for the 3rd period and presented to the winner of the competition.
To place your order please contact Storm GM Neil Russell at: GM@manchesterstorm.com
| PLAYER | Home (League) | Away (League) | Challenge Cup | Home WarmUp | Away WarmUp |
| --- | --- | --- | --- | --- | --- |
| Omar Pacha | SOLD | SOLD | SOLD | SOLD | SOLD |
| Jack Prince | SOLD | SOLD | SOLD | SOLD | SOLD |
| Adam Harding | SOLD | SOLD | SOLD | SOLD | SOLD |
| Cody Cartier | SOLD | SOLD | SOLD | SOLD | SOLD |
| Mark Heatley | SOLD | SOLD | SOLD | SOLD | SOLD |
| Paul Swindlehurst | SOLD | SOLD | SOLD | SOLD | SOLD |
| Eric Neilson  | SOLD | SOLD | SOLD | SOLD | SOLD |
| Paul Phillips | SOLD | SOLD | SOLD | SOLD | SOLD |
| Trevor Johnson | SOLD | SOLD | SOLD | SOLD | SOLD |
| Connor Varley | SOLD | SOLD | SOLD | SOLD | SOLD |
| Mike Clemente | SOLD | SOLD | SOLD | SOLD | SOLD |
| Patrik Valcak | SOLD | SOLD | SOLD | SOLD | SOLD |
| Mario Trabucco | SOLD | SOLD | SOLD | SOLD | SOLD |
| Matt Bissonnette | SOLD | SOLD | SOLD | SOLD | SOLD |
| Taylor Dickin | SOLD | SOLD | SOLD | SOLD | SOLD |
| Dallas Ehrhardt | SOLD | SOLD | SOLD | SOLD | SOLD |
| Phil Spanswick | SOLD | SOLD | SOLD | SOLD | SOLD |
| Darian Dziurzynski  | SOLD | SOLD | SOLD | SOLD | SOLD |
| Thomas Ratcliffe | SOLD | SOLD | N/A | SOLD | SOLD |
| Nardo Nagtzaam | SOLD | SOLD | N/A | SOLD | SOLD |