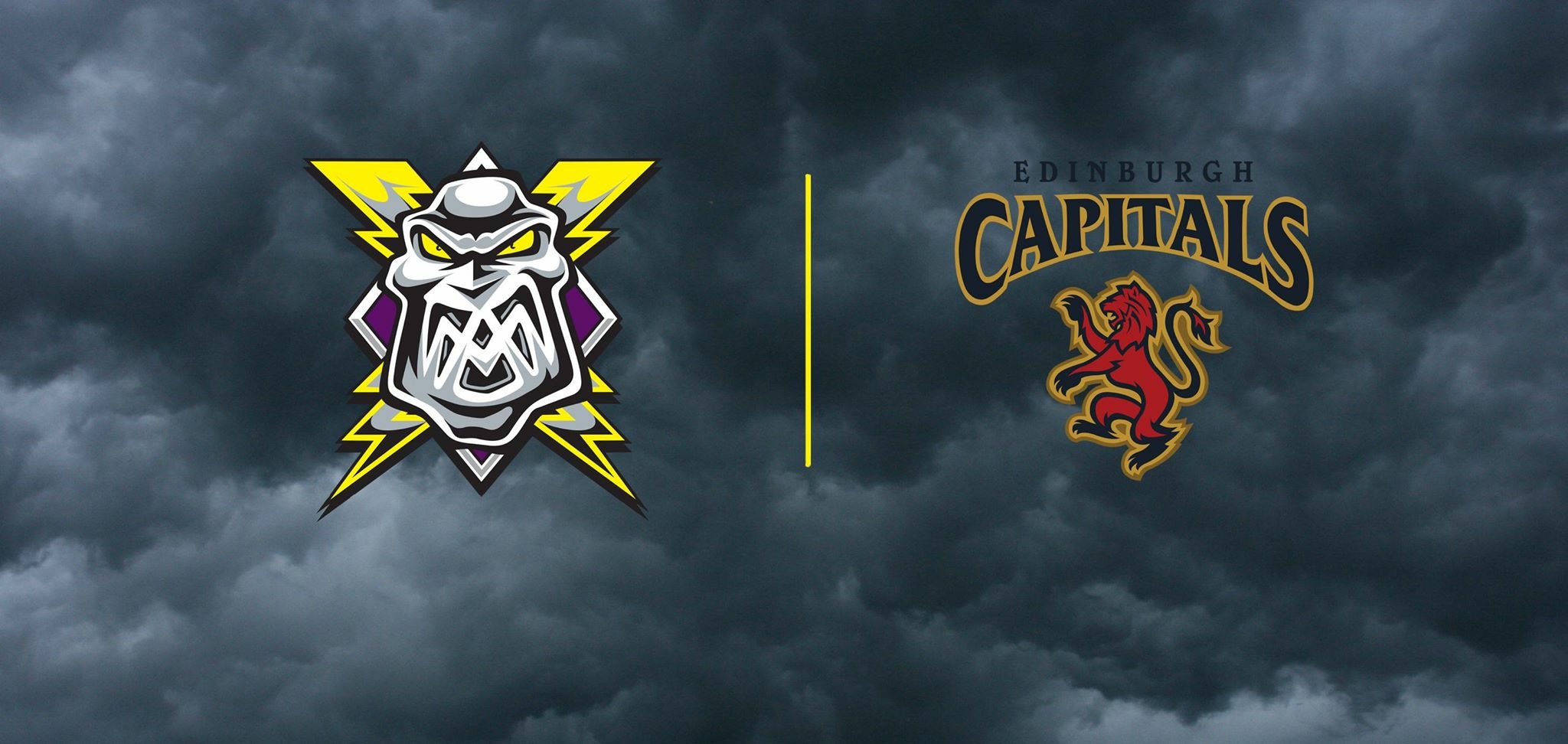 Manchester Storm 8 Edinburgh Capitals 5
NEXT HOME GAME: The Go Goodwins Manchester Storm face the Dundee Stars at the Storm Shelter in Altrincham, this Saturday 6th February (6:30pm face-off) in Elite League action. Tickets can be purchased online via the club website, www.manchesterstorm.com, calling the Box Office on Tel: 0161-926-8782.
WHAT A GAME!!!!
A bright start from the Storm in this game, but it was Ned Lukacevic who opened the scoring for the Capitals, with their first shot on goal, as he slipped one just past Kalemba in the Storm net. This was followed up by Trevor Gerlin netting his 17th goal of the season as he broke away post penalty kill to put the visitors 2-0 up before 10 minutes of play. The Storm kept pushing hard, and continued to work the whole period, being rewarded 5 minutes from the 1st intermission with a goal from #21 Grant Toulmin who bagged his 13th goal of the season while on the power play, to cut the deficit to 1.
The second period was end to end hockey from both teams, as the Capitals leapt to a 4-1 lead over the Storm, thanks to Trevor Gerling and Ned Lukacevic scoring their second goal each of the night, with just over 5:30 gone in the 2nd. The remainder of the period however was dominated by the Manchester Storm as Mathew Sisca pulled one back less than 30 seconds later, followed by Vinny Scarsella slipping one in off the metal, and then Ricards Birzinsh tying things up for his 7th of the season as the atmosphere intensified inside the Storm Shelter!! Matt Caria then sent the fans wild, giving the Storm the lead for the first time on the evening with just over 1:30 left in the middle period, with a power play goal.
The 3rd period saw the Edinburgh Capitals tie things up after 12 minutes in the third, as Paul Zanette popped his 19th goal of the season past Kalemba. The Storm continued to push hard for the lead, and Matt Paton was able to deliver with less than 5 minutes left in the 3rd. This was followed up by Matt Sisca 30 seconds later slotting the puck between Chubak and the post to put the Storm 7-5 up, before Vinny Scarsella sent the Storm Shelter wild yet again with an empty net goal with 17 seconds to go to kill the game. Final score Manchester Storm 8 Edinburgh Capitals 5
MOM for the Manchester Storm: #22 Matt Sisca
MOM for the Edinburgh Capitals: #10 Ned Lukacevic