The 513 Club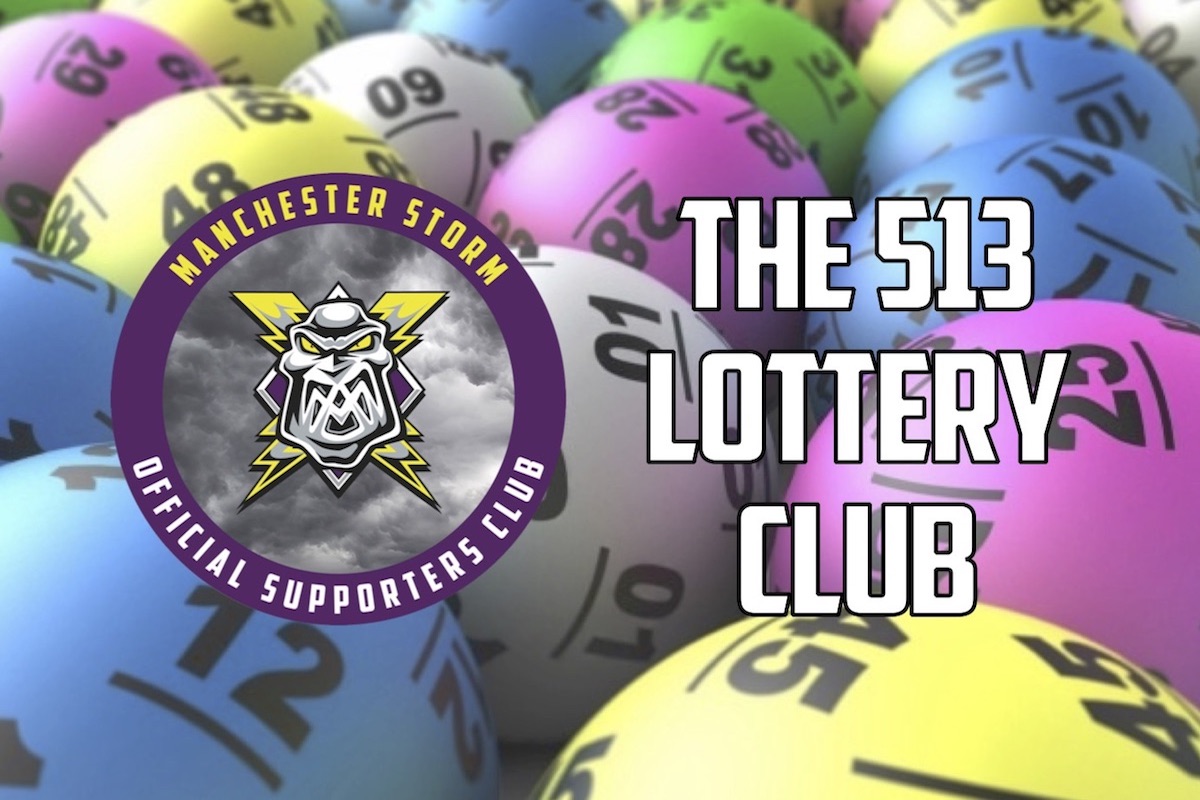 The Manchester Storm OSC are excited to announce the launch of the 513 Lottery Club!
The 513 Lottery Club has been created in honour of the inaugural finishing roster of the return of the Manchester Storm in 2015. The jersey numbers of all the finishing players from that first season have been added together to create 'The 513 Lottery Club'.
The 513 Lottery Club is a monthly draw which is aligned to the Hockey Season and will run from September to August. There will be three winners each month, with a total maximum prize money of £461.70.
HOW DOES IT WORK?
A full annual subscription costs £24 per number, but you are welcome to join at any time in the year on a pro rata basis of £2 per month remaining e.g. join October you pay £22 (10 months x £2 per month); join December you pay £18 (9 months x £2 per month).
On commencement of your subscription, you will have a number between 1-513 chosen for you at random using a random number generator. This will be your unique lottery number for the season.
PLEASE NOTE: subscription is for one season only
To be included in a draw you must join by the 25th of the month. Any requests received after that will be included in the following month's draw.
The monthly winners will be chosen using a random number generator on the last day of the month, with the winning numbers displayed on the Manchester Storm Website and across all usual social media platforms.
PRIZES
The total prize fund varies from month to month depending on the level of membership, with 1st Prize receiving 20% of the total pot 2nd Prize 15% and 3rd Prize 10%
For example:
100 balls sold = £40 (1st) £30 (2nd) £20 (3rd)
513 balls sold = £205.20 (1st) £153.90 (2nd) £102.60 (3rd)
As membership increases during the year, the prize money will be increased accordingly. Notification letters and cheques will be posted to 'winners' home addresses following each monthly draw.
HOW DO I JOIN?
Please send an e-mail to [email protected] with the following information:
• Name
• Address
• Telephone number
• How many numbers you wish to purchase
• Your preferred method of payment
Cash
Bank Transfer
Debit/Credit card (please note an additional 2.75% transaction fee will be added to the final cost of payments by debit/credit card))
Once you have completed your subscription, your lottery number(s) will be confirmed to you via email.
PLEASE NOTE: you must be 16 years or over to join the 513 Lottery Club.
The 513 Lottery Club is run in accordance with the Trafford Council, Licensing Office and is registered in accordance with the Gambling Act 2005 – Small Society Lotteries under registration number SL061484.